Administrator
Staff member
Fans dreaming of owning one (or more) of the only 1963 Founders Tokens for World's Apart are able to purchase them this morning. They are only $1000 each.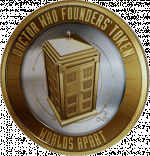 https://doctorwho-worldsapart.com/r/19269/
This third of five rounds of Founder's token drops began this morning at 7 AM PST / 9 AM CST / 10 AM EST.
At the time of this writing 250 of the 500 available in this round have been purchased in just 1 hour and 47 minutes.
Click here to purchase now before these are history.
https://doctorwho-worldsapart.com/r/19269/
Rocco
Outpost Gallifrey News
Chicago