Administrator
Staff member
The classic Doctor Who TV story from Season 24 in 1987 has a new version of the novel of the story, now on audio and read by Bonnie Langford who performed on TV as the Seventh Doctor's companion Mel.
While this story was scheduled for release on 6 January 2022 several online retailers of physical media have already shipped the CD versions perhaps in order to remain competitive with the singular source of online streaming, Audible owned by Amazon. Physical CD's are already available on ebay and while most online retailers will show the release date of the 6th, this title has been released.
Written by the husband and wife team of Pip and Jane Baker - Time and the Rani is a classic story set in the Sylvester McCoy era of the original TV series. Bonnie Langford brings the story to new life in 2022 with a dramatic reading.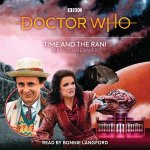 Kierra
Outpost Gallifrey News
London