Originally scheduled for September 2nd, 2021, announced as read by Adjoa Andoh, then rescheduled until March 1st 2022 and finally rescheduled for May 5th, 2022 this audio novel is out now. It was written by Mark Platt and is now read by Toby Longworth. Advertising materials read as:
"Toby Longworth reads this suspenseful novelisation of a classic adventure for the Seventh Doctor and Ace.
A squad of UNIT troops is escorting a nuclear missile through the English countryside, whilst nearby knights in armour are fighting battles with broadswords, guns and grenades.
The Doctor arrives on the scene and meets two old friends: Brigadier Lethbridge-Stewart and Bessie, the souped-up Edwardian roadster.
Why do the knights address him as 'Merlin', and what is the power of the sword that Ace retrieves from the bottom of a lake? Will the wicked Morgaine carry out her threat to destroy the world?
Based on a TV script by bestselling novelist Ben Aaronovitch, Battlefield kicked off the final series of 1980s Doctor Who."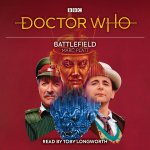 Physical CD's are available from a good number of online retailers such as Book Depository which began shipping today.
https://www.bookdepository.com/Doctor-Who-Battlefield-Marc-Platt/9781529138542
Battlefield in it's newest form is also available from audio streaming sources.
Polly Hemp-Hauge
Outpost Gallifrey News
Salzburg Austria