Administrator
Staff member
Fans of Derek Jacobi's War Master and David Tennant's Doctor have reason to celebrate today with the release of The War Master: Self-Defence.
This quartet of new tales is now available on collectors edition CD as a box set and for instant download from the speedy Big Finish website.
As described by Big Finish, quote;
"The Time War incarnation of the Doctor's best enemy is back, and the two Time Lords face each other once more - but who remembers whom?
7.1 The Forest of Penitence by Lou Morgan
Waking in an unusual forest with no memory of how he arrived there, the Master has little choice but to seek help from other survivors. But what is it they've all survived?
7.2 The Players by Una McCormack
On the planet Trabus, the Master discovers a society where nobody is innocent and the only true crime is to be a less successful villain than those around you.
7.3 Boundaries by Lizbeth Myles
As his companion Cole attempts to save a world, the Master discovers an extraterrestrial entity that threatens to spread across the globe.
7.4 The Last Line by Lizzie Hopley
At the mercy of an ancient and powerful race, the Master calls upon his oldest friend in his hour of need. The problem is he doesn't recognise this incarnation of the Doctor… while the Doctor knows this Master all too well." Unquote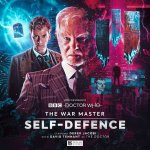 Order Online now :
https://www.bigfinish.com/releases/v/the-war-master-self-defence-2542
Rocco
Outpost Gallifrey News
Chicago