Administrator
Staff member
https://bbvproductions.co.uk/products/Erimem-Churchills-Castle-AUDIO-DOWNLOAD-p382907821
Quote "Erimem: Churchill's Castle, reimagined from Andy Hansen's perspective. ONLY AVAILABLE FROM BBV!
A trip to the future for Erimem and her friends coincides with a brutal, unstoppable attack on the planet.
Earth is lost is less than an hour and humanity is forced to abandon its homeworld, but is there anywhere for the desperate refugees to go?
The last remaining Earth warship offers some sense of hope but soon Erimem and her friends discover that hope may be the bringer of the end of humanity...
Read by Sarah-Jane Wareham. Written by Iain McLaughlin. Sound design by Warren Lewis.
Runtime: 55 minutes." Unquote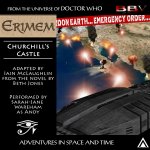 Kierra
Outpost Gallifrey News
London