Administrator
Staff member
Happy CYBER MONDAY!
From the BBV website here:
https://bbvproductions.co.uk/produc...ken-Word-of-the-Novelisation-AUDIO-p338860891
Quote : "
Nigel Peever reads the novelisation of Lance Parkin's BBV classic. With Enhanced sound effects and music.

Doctor Anderson's patients have permanent brain injury or suffer from brain diseases for which there is no cure. When Thomas Mordley begins introducing tests of Cyberon on her patients, Dr Lauren Anderson thinks she already knows how the trial will end — there will be some benefits, but no significant improvement in their condition.
Doctor Anderson is wrong... Cyberon is different. Mordley knows it's a wonder drug, and it's going to revolutionise medicine. He thinks it may even revolutionise the world. But does he realise that Cyberon has it's own plan?
And if he does, could he do anything to stop it?
Dur: 5 hours 2 minutes.
Cover-art: James Lee" Unquote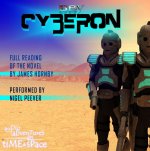 Kierra
Outpost Gallifrey News
London