One of the updates to The Time Scales will include the ability to post updates to reviews when opinions may change over times. Here is a prime example of when that new feature would come well into play now, with this game that was just released.
https://thetimescales.com/Story/story.php?audioid=8100
In my review the day this game was released, I expressed some disappointment in relation to two issues;
1) The Soundtrack was not included as advertised.
2) The game arbitrarily selected one of my two video cards without giving me a choice.
Well, as if Maze Theory had read my review, guess what's been fixed with todays update?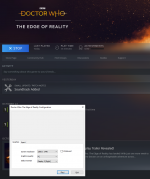 Two things have been updated.
1) The Soundtrack has now been added
2) There is now a popup window on launch that allows a PC gamer to select which video card and monitor they would like to use.
Well, isn't that just amazing?
Kamelion
San Francisco