Administrator
Staff member
Announced today the epic MMO Eve Online will host a special event beginning January 13th, 2022 in New Eden.
This news includes, quote;
"Marking some of the most exciting news to be shared with the citizens of New Eden, the world of Doctor Who is coming to EVE Online!
Taking place as a packed, entirely original event called The Interstellar Convergence that runs from
13 January to 1 February
, the official EVE Online x Doctor Who crossover brings you an adventure set before the Time Lords' 400-year-long conflict with the Daleks, 'The Last Great Time War'. Join The Interstellar Convergence to solve a celestial mystery, face off against the infamous Dalek menace, secure some very special themed rewards and items.
Doctor Who is the world's longest running sci-fi series, having first been broadcast back in 1963. Its influence on sci-fi is hard to overstate. Bringing Doctor Who to the vast, live world of New Eden offers a thrilling opportunity for veteran pilots, EVE newcomers, and longstanding fans of the Time Lord. " Unquote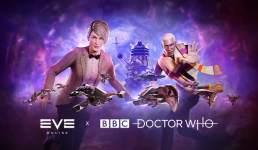 More information is available here;
https://www.eveonline.com/news/view/doctor-who-is-coming-to-eve-online
and here;
Rocco
Outpost Gallifrey News
Chicago