Administrator
Staff member
Fans of Paul McGann and the Stranded series have reason to celebrate today with the release of a quartet of tales in the finale of this popular box set series. Gleaned from the Big Finish announcement these four new stories are;
4.1 Crossed Lines by Matt Fitton
The Doctor interrupts a pivotal journey for young Robin, while Tania and Helen are caught up in events past and present.
As the timeline dissolves and the Void encroaches, the Doctor's friends ask the Curator for help. But he is not the man he was...
4.2 Get Andy by Lisa McMullin
The Doctor resolves to make a difference and save one life in particular. But someone else is making a beeline for Sergeant Andy Davidson.
Mr Bird has something to prove, and he will go to any extreme to do it...
4.3 The Keys of Baker Street by Roy Gill
Homing in on the root of the problem, the Doctor attempts a risky solution – and disaster strikes. Soon, 107 Baker Street is all that's left of reality, as the residents climb the floors to face their destiny.
4.4 Best Year Ever by John Dorney
What happens if the world is actually fixed? There are times when even the Doctor cannot help.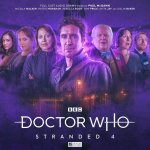 This set is now available for your listening pleasure on collector's edition CD's and for instant download via the speedy Big Finish website here:
https://www.bigfinish.com/releases/v/doctor-who-stranded-4-2172
Rocco
Outpost Gallifrey News
Chicago