Administrator
Staff member
The Doctor Who Appreciation Society has released a unique new anthology of non-fiction stories written by a multitude of who's whos of the Whoniverse. This new book directs proceeds to the RSPCA, the Royal Society for the Prevention of Cruelty to Animals. The webpage for this new title is here:
http://www.dwasonline.co.uk/pets_in_time
It is described as, quote;
"
Join actors, writers and production crew from the world of Doctor Who as they relate moving and hilarious stories about their own very special pets in our latest publication, Pets In Time.

The book includes contributions from:
Colin Baker, Wendy Padbury, Robin Squire, Derek Martin, Katy Manning, Bob Baker, Mat Irvine, John Leeson, Louise Jameson, Janet Ellis, Stephen Gallagher, Janet Fielding, Sarah Sutton, Mark Strickson, Nicola Bryant, Mike Tucker, Andrew Cartmel, Eric Potts, Edward Russell, Linda Clark, Paul M Tams, Tim Quinn, John Freeman, Stephen Cranford, Colin Howard, Karen Davies, Mark Wright, Toby Hadoke, Kenny Smith, Mark Barton Hill, Raine Szramski, Andrew Ireland, Paul Magrs, Will Hadcroft and Rik Moran
Artwork by
Colin Howard, Nick Miller, Jey Parks
and
Raine Szramski
Edited by
Ian Wheeler
To buy visit our online store at:
https://dwas-store.sumup.link/
" Unquote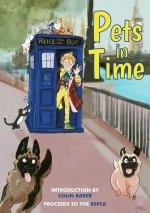 Rocco
Outpost Gallifrey News
Chicago