Administrator
Staff member
Fans of BBC Audio Doctor Who audiobooks, Will Hadcoft, Frazer Hines, The Time Scales and fresh new Doctor Who interviews have reason to celebrate today with the release of The Time Scales Interviews Will Hadcroft.
This Youtube release is described as "Pure, raw and unedited" audio which also teases the listener with original cover compositions of Doctor Who music including the classic 1963 Delia Derbyshire theme song as a piano solo.
This nearly two and a half hour long interview is with one of the newest BBC Doctor Who authors with The Resurrection Plant being due for release August 4th, 2022 on CD and audio streaming services. The wide range of topics covered include the process of becoming published by BBC, classic to modern Doctor Who TV all the up to Jodie Whittaker and Ncuti Gatwa, Russel T. Davies, music, Asperger's Syndrome / autism, the Doctor Who Appreciation Society (DWAS), Christopher Eccleston, Colin Baker, Ian Wheeler, Big Finish and Audio Visuals, Doctor Who Magazine, Virgin Publishing, Penguin Publishing and more.
The closing musical photographic slideshow states that "Full video of this interview will be released in two parts in July of 2022" while treating the viewer to an original The Time Scales cover composition of The Shepherd's Boy (Breaking The Wall) originally by Murray Gold when featured in the Peter Capaldi TV stories Heaven Sent and Twice Upon A Time.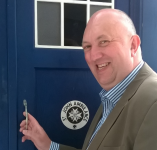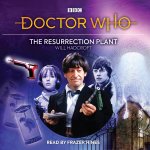 The direct link to this release is :
Rocco
Outpost Gallifrey News
Chicago
​