Administrator
Staff member
Long name, long interview. The Time Scales has now interviewed both of the most recent Big Finish and BBC Audio Doctor Who authors in present time in just one week. Last week there was Georgia Cook, the latest Big Finish Doctor Who author. That video is available here:
Interview runs 19 minutes
Today, fans of Patrick Troughton's second Doctor, Jamie, Zoe, Will Hadcroft and The Time Scales
(thetimescales.com)
have reason to celebrate with the release of The Time Scales Interviews BBC Doctor Who Author of The Resurrection Plant: Will Hadcroft.
Part One of Two:
Part Two of Two:
This entire interview runs at 3 hours and 1 minute in it's two parts.
This interview is described as, quote:
"Recorded July 30, 2022 Released July 31, 2022 The Time Scales interviews their first ever guest author Will Hadcroft. This interview describes how it took decades to become a Doctor Who author for BBC. Will Hadcroft tells an in depth non-fictional and often emotional story of how he became the newest Doctor Who author for BBC Audio. Mr. Hadcroft will become the newest published author for Doctor Who on August 4th. 2022 with the release of The Resurrection Plant in the BBC Doctor Who Audio Originals series. Full video runs 3 hours 2 minutes in total and has been released in 2 parts on Youtube."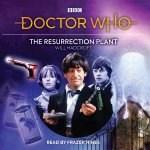 At the end of this interview viewers were urged to order this new Doctor Who story which was apparently in production for decades.
Doctor Who: The Resurrection Plant will be released on August 4, 2022. This three hour interview seems to make the perfect compliment to this Doctor Who BBC Audio Originals release.
Rocco
Outpost Gallifrey News
Chicago
Last edited: