Administrator
Staff member
Doctor Who: The Teeth of Ice is an audiobook featuring the Eighth Doctor as he faces a deadly enemy in the icy wastes. The story is about the Doctor and his friend Macfarlane investigating strange goings-on at the Base and a recent attack on a neighboring station. The two friends focus on Rochdale's expedition to find the lost continent of Mu, which he believes may lie in Antarctica.
The audiobook was written by Andrew Lane, who has written many books and audios in the Doctor Who universe. It was narrated by Dan Starkey and is available on Audible.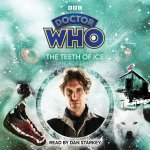 Available at all fine booksellers and audio streaming services.
The title of this story was first released by the author Andrew Lane during a Time Scales interview which is located here:
Rocco
Outpost Gallifrey News
Chicago