Administrator
Staff member
With a late night surprise rerelease of an extremely rare full cast audio drama The Time Scales and Fine Line Productions producer Gareth Preston did in fact surprise the newest BBC Doctor Who author Will Hadcroft as can be seen on Twitter here:
Will Hadcroft is the author of the newest BBC Doctor Who Audio Originals story Doctor Who: The Resurrection Plant
Will Hadcroft worked for decades to become an official BBC Doctor Who author and he succeeded.
This full cast audio drama recorded in 2006 and originally released in 2022 has been rereleased on Youtube as part of a celebration with his friends online. The rerelease of this story was intended to be a surprise for Will Hadcroft and as seen on Twitter it obviously was.
Cast and Crew are: The Doctor - Joe Binks Jenny - Amy Ward Dr Joseph Winston - John Ainsworth Rebecca - Katie Boltain Samuel - Gary St John Mr Raven - Gareth Preston Inspector Crawford - Kevin Hiley Josh - Carl Bowler Londoner - Becky Bowler Writer - Will Hadcroft Theme Music - James Leatherbarrow Incidental Music - Peter Dudley Script Editor - Lawrence Ahlemeyer Produced and Directed - Gareth Preston Artwork - Bill Hollwegnd.
Here are all three parts of The Chattath Factor by Will Hadcroft;
Part One
Part Two
Part Three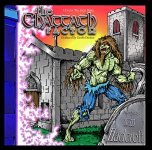 Rocco
Outpost Gallifrey News
Chicago
Last edited: