Administrator
Staff member
BBC Audio released a new Doctor Who story today which was written by Will Hadcroft and by all accounts it was decades in the making. This new story titled Doctor Who: The Resurrection Plant may be ordered here:
https://www.amazon.co.uk/Doctor-Who-Resurrection-Plant-Original/dp/B09BS54V5X
This story features the second Doctor, Jamie and Zoe.
The Time Scales release of The Folklore Podcast 113 on Youtube seems to align with the release of The Resurrection Plant in that it demonstrates a collaborative effect to promote the history of and the works of Will Hadcroft. The mostly audio/video states that it was released with permission of the producer, an outstandingly popular niche publisher The Folklore Podcast.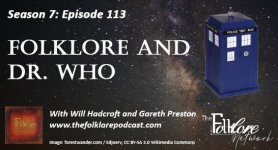 This release may be listened to here on Youtube:
Rocco
Outpost Gallifrey News
Chicago