Administrator
Staff member
From the publisher: "Doctor Who's 20th anniversary was a milestone in an era when few series had achieved such longevity. Huge transatlantic conventions, a variety of books and a National Film Theatre retrospective celebrated the programme's status as a cultural institution. But in many other respects, 1983 was about looking forward – British television now boasted four networks, microcomputers were becoming commonplace and a home video revolution was looming. Could the show maintain its prominence in this new landscape? All-new features, illustrated with rare and previously unseen images, reveal the story behind a momentous year."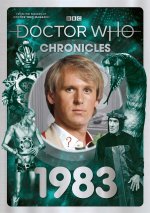 Readers in the US are able to order the digital edition now for instant download here:
https://pocketmags.com/us/doctor-who-magazine/dwm-bookazine-26
Released September 29th, 2021.
Rocco
Outpost Gallifrey News
Chicago