Administrator
Staff member
From Book Depository;
Quote "Adjoa Andoh reads a dynamic new story featuring the Ninth Doctor and Rose, as played on TV by Christopher Eccleston and Billie Piper.
When the Doctor diverts an asteroid from its collision course with Earth, the TARDIS is invaded by an ancient menace: a Solonite. Racing to save her friend's life, Rose lands the TARDIS in Northumberland, Earth in 1986, and they find shelter in an isolated farmhouse.
Teaming up with Peggy, a grieving artist, the travellers realise the terrible truth: the Solonite has accompanied them to Earth, and is now at large. As the terrifying entity seeks to possess them, its fearful purpose becomes clear - and it involves the TARDIS...
Adjoa Andoh, who played Francine Jones in the BBC TV series, reads Niel Bushnell's electrifying original story, with accompanying sound design.
(P) 2021 BBC Studios Distribution Ltd
Reading produced by Neil Gardner
Sound design by David Roocroft
Executive producer: Michael Stevens"
Unquote
This new adventure is available for instant download at Amazon owned Audible. While this was released on physical CD in the UK all online retailers are already showing that it has been sold out, with used book vendors offering what appear to be rare, for now, collectors editions of the physical media.
The North American physical CD release is scheduled for November 30th, 2021.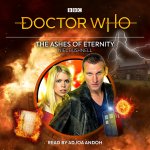 Kierra
Outpost Gallifrey News
London