Administrator
Staff member
In an exceptionally rare case Big Finish has released a new production on a weekend. On Sunday the 14th of November, immediately following the broadcast of Doctor Who : Flux Chapter Three an email update titled "New Series Offers: Cyber downloads plus Graceless sale and Dark Season" announced that the latest offering penned by Russell T. Davies was now available for download. This makes the Sunday release the only documented weekend release of Big Finish in possibly years.
From the Big Finish website, quote:
"An ordinary day at school takes a sinister turn when the mysterious Mr Eldritch promises a free home computer for every pupil - computers which conceal a terrible power...
Only three teenagers, Marcie, Thomas and Reet, are alert to danger. Soon, they're caught in a conspiracy of brainwashing, kidnaps and a threat to the whole human race. Worse still, the school itself hides ancient secrets buried beneath its foundations, as the awesome Behemoth rises from its tomb, intent upon the destruction of all.
Eldritch has summoned his Dark Season, which heralds the end of the world...
***THIS RELEASE WILL HAVE A LIMITED CD PRESSING OF 1000 COPIES***
" Unquote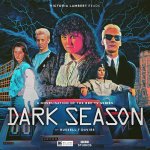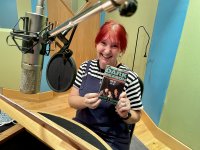 Victoria Lambert (Marcie) with a copy of Davies' original novelisation at the recording of the audiobook (c) Big Finish
This new audiobook read by Victoria Lambert is now available on collector's edition CD-Rom as well as for instant download from the speedy Big Finish website here:
https://www.bigfinish.com/releases/v/dark-season-by-russell-t-davies-audiobook-2577
This title is also available for ratings and reviews on The Time Scales here:
https://thetimescales.com/Story/story.php?audioid=11698
Rocco
Outpost Gallifrey News
Chicago