Administrator
Staff member
While Peter Capaldi has never lent his talent to Doctor Who audiobooks or adventures, that hasn't stopped the BBC and Big Finish from producing them.
Released today is a collection of ten stories previously published, now all in one audio collection. It is available on CD and online streaming with the service of your choice. The stories include:
The Gods of Winter
The House of Winter
The Sins of Winter
The Memory of Winter
The Lost Angel
The Lost Planet
The Lost Magic
The Lost Flame
Rhythem of Destruction
Death Among the Stars
These stories are read by Claire Higgins, David Schofield, Jemme Redgrave, Nicola Bryant, Kerry Shale, Robin Soans and Dan Starkey.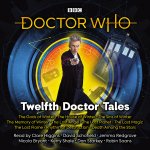 https://www.penguin.co.uk/books/1446648/doctor-who--twelfth-doctor-tales/9781529143720.html
Rebecca
Outpost Gallifrey News
Santa Cruz de Tenerife, Spain