Administrator
Staff member
While the December 17th release date on sites such as Amazon and Book Depository are now showing delayed and/or delayed until January, this title is available for ordering now directly from the Telos website here:
https://telos.co.uk/shop/other-non-fiction/art/the-who-adventures-hb/
Quote; "
Written by David J Howe
The art and history of Virgin Publishing's range of
Doctor Who
New and Missing Adventures.
336pp. Large format 22cm x 28cm hardback. Fully illustrated in full colour throughout.
ISBN: 978-1-84583-185-1
Publication date: 9 December 2021
Cover art by Tony Masero.
Logo and cover layout by Andrew-Mark Thompson." Unquote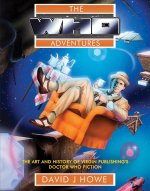 Kierra
Outpost Gallifrey News
London