https://www.bigfinish.com/news/v/short-trips-packed-with-big-ideas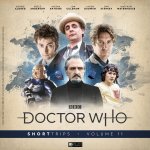 The history of Big Finish Short Trips is anything but short.
"Short Trips"
was a label applied to stories and books, published by both
BBC Books
and
Big Finish Productions
. Early publications released under the "Short Trips" banner were short story anthologies. The majority of these anthologies were collections of prose issued from
1998
to
2009
, but Big Finish resurrected the name as a label for audio anthologies and single audio downloads beginning in
2010
.
"Short Trips" was a name initially given to three short story anthologies published by
BBC Books
, starting in
1999
. The notion was very similar to
Virgin Books
'
Decalog
anthology series. These three new books were published in conjunction with the
BBC Eighth Doctor Adventures
and
BBC Past Doctor Adventures
book series. Each book contained stories featuring the first eight incarnations of the Doctor. After publishing the anthology
Short Trips and Side Steps
in
March
2000
, BBC Books abandoned short stories for full length prose.
In
2002
,
Big Finish Productions
obtained the rights to the Short Trips series. The Big Finish Short Trips books, like the Decalog series, are built around themes. These include an annual volume dedicated to Christmas-related tales and one volume dedicated to
Dalek
stories. A total of twenty-eight volumes of new material — featuring several hundred stories featuring the first eight Doctors — were published by
March
2009
.
On
17 April
2009
, Big Finish announced it was ending the Short Trips line, since the BBC had not renewed the company's license to issue
Doctor Who
stories in print.
[1]
A final Short Trips volume, a "best-of" collection, subsequently appeared in
May
2009, coinciding with Big Finish briefly making its back stock of earlier Short Trips books available at a discounted rate.
Announced today: (quote)
"The
Short Trips
range is back with six sensational short slices of story, encompassing adventures set throughout all eras (and across many incarnations) of
Doctor Who
.
Originally a book series,
Doctor Who – Short Trips
was relaunched in 2010 as an audiobook range. This anthology of brand new adventures forms
Volume 11
and is due to be released in February 2022. Three new writers make their Big Finish debut with stories in this collection.
Producer
Alfie Shaw
said: "There's something for everyone in this box set. We've got a couple of short-form dramas, there are first-person monologues and also some more traditional third-person stories. We're digging into the psychology of classic villains, monsters and companions, exploring the devastating effects of Time War, and taking a terrifying flight with the Tenth Doctor!
"We've taken a similar route with all our fabulous performers, pulling a cast together from actors who were part of the original TV show to those who have joined the wonderful world of
Doctor Who
through Big Finish's audio adventures. It's a privilege listening to these fantastic actors at work, and I hope everyone enjoys the box set."
The six very special stories are:
Rearguard
by
Alfie Shaw
Performed by
Dan Starkey
and
Jacob Dudman
Trooper Stron has been given a great honour by Sontar. He's been chosen as the rearguard on Ubreus, protecting that world against anyone who would try to pry it from Sontaran control. The problem is, no one's coming to claim Ubreus, and that means there's no one for Stron to fight…
Messages From the Dead
by
Rochana Patel
Performed by
Matthew Waterhouse
Adric wants to help the Doctor. The Doctor doesn't want Adric's help. Banished to updating the TARDIS logbook, Adric has to record the tale of the Hermes, a doomed freighter they found in E-Space. With Romana gone, and only the past as a guide, Adric needs to work out how to make this new dynamic work before it's too late for both him and the Doctor.
The Threshold
by
Felicia Barker
Performed by
Jon Culshaw
After a collision in the vortex, the Master is trapped in his TARDIS. Luckily, the Doctor has come to save him. Unluckily, the Doctor's TARDIS has vanished. With the ship collapsing around them, can these arch-enemies put their rivalry aside long enough to survive?
Death Will Not Part Us
by
Alfie Shaw
Performed by
Adéle Anderson
On the 14th of August 3097, everything is fine on the world of Gernica. Except, on the same day, the planet is being destroyed. Also, on the 14th of August 3097, no one in the universe has heard of Gernica. The planet's only chance to survive the horrors of the Time War lies with Viola Wintersmith. For Viola has a weapon that can destroy anything that stands in her way. A weapon that requires a unique form of ammunition. Her past.
Fear of Flying
by
Paul F Verhoeven
Performed by
Ayesha Antoine
Hawa Hassan is terrified of flying. However, to make the most important audition in her life, Hawa's braving boarding an aeroplane. After all, it's just one flight. What could possibly go wrong?
Inside Story
by
Ben Tedds
Performed by
Sophie Aldred
Helen Howard wishes to make it known the plot, all names, characters, and incidents portrayed in this story are fictitious. No identification with actual persons or time travellers should be inferred.
Doctor Who – Short Trips: Volume 11
is now available for pre-order as a digital download (only) at just £14.99 from the Big Finish website here:" (unquote and link added)
https://www.bigfinish.com/releases/v/doctor-who-short-trips-volume-11-2362
This appears to be a digital only release with no collectors edition CD-Rom being offered.
Digital Retail ISBN: 978-1-83868-547-8
One of the terrible tragedies of 2020 which certainly includes the death of Stephen Critchlow came the end of the subscriber bonus short trips. A list of which, including many unavailable is here:
https://www.bigfinish.com/pages/v/doctor-who---subscriber-short-trips
The slogan was 'Subscribers get more!" Yet unfortunately since the Big Finish Monthly Doctor Who series has ended with nothing to subscribe to, there is no.... More...
It will be great to see Short Trips return.
Kamelion
Outpost Gallifrey News
San Francisco, California