Administrator
Staff member
While the original broadcast date of the January 1st, 2022 TV Episode titled "Eve of the Daleks" is not scheduled for release until about 23.5 hours from now, Outpost Gallifrey is inspecting the leak.
It would appear as if the entire episode was uploaded to Youtube and Vimeo. The title was "NewWho22.mpg" These links were removed in less than one hour, however fans are now sharing the episode, with BBC America tags via E-Mail and other file sharing platforms. It appears as if the leak was from BBC America and Outpost Gallifrey is working actively to verify the source of the video file.
The file in question has been verified to contain the entire episode with additional interview footage.
When speaking with author William T. Rooney III of Turlock California who has claimed to have viewed the episode, he stated "Yeah I feel like a total and complete whore for what I just did and watched this. Some of the peeps at the UC got this file this morning and said hey you wanna watch Dr. Who before it's on and I was like yeah sure! It's the whole tv episode for sure. The new style Daleks are horrifying in their own respects. People will be blown away to see Dan executed. Plus a Jodie Whittaker interview and some other clips. It's like a whole press package or something. I should not even be saying anything about it I guess. Our Professor tried to get us to swear to secrecy."
More updates on this as soon as possible.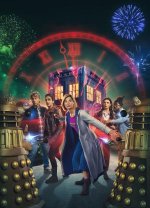 Kierra
Outpost Gallifrey News
London
Last edited: