Quote:
"This year's festive special,
Eve of the Daleks,
will premiere on
BBC One
at
7:00pm
on New Year's Day.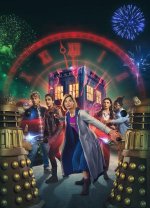 The BBC's guide to the Christmas line-up reports:
The Thirteenth Doctor (Jodie Whittaker) and friends will kick-start 2022 with an action-packed spectacular episode set to air on BBC One on New Year's Day. The festive special will feature guest stars Aisling Bea (This Way Up, Living With Yourself, Quiz), Adjani Salmon (Dreaming Whilst Black, Enterprice) and Pauline McLynn (Father Ted, Shameless).
Sarah (Aisling Bea) owns and runs ELF storage, and Nick (Adjani Salmon) is a customer who visits his unit every year on New Year's Eve. This year, however, their night turns out to be a little different than planned…
The festive episode is the first of three Doctor Who Specials airing in 2022. The second Special airs in Spring and Jodie's final feature-length Special (in where the Thirteenth Doctor will regenerate), will transmit in autumn 2022 as part of the BBC's Centenary celebrations.
Doctor Who is a BBC Studios production for BBC One and a BBC America co-production. BBC Studios are the international distributors for Doctor Who.
Speaking about festive treats in general, the BBC's Chief Content Officer
Charlotte Moore
said:
Christmas 2021 is a time to reunite with friends and family once more, and this year's line-up of must-see shows will bring everyone together to share the festive season on the BBC. There's a stocking full of special programmes to enthral and enchant featuring your favourite stars and characters, whatever your mood. The BBC is the place to be entertained this Christmas and New Year.
Focussing on the show itself, the BBC have released a number of interviews with the cast and crew:
Interview with Jodie Whittaker (The Doctor):
What can audiences expect from Eve Of The Daleks?
I think the festive special is a wonderful high octane contained story, so if you haven't seen the series, including the Flux, you can start this episode and be taken on a rollercoaster through a scenario where the Doctor, Yaz and Dan are stuck in a time loop. Not only are they stuck in a time loop, they're being pursued by the Doctor's biggest enemy, which is the Daleks. For the Doctor it is her worst scenario.
This is all set on New Year's Eve and we've two fantastic guest stars, Aisling Bea and Adjani Salmon who are not only hilarious but also wonderful actors that provide so much energy and brilliant chemistry. Audiences can expect lots of comedy, lots of fun, high stakes, huge amounts of jeopardy and an energised rollercoaster ride.