By now in June of 2021 anyone that follows Doctor Who current events should be aware that the BBC has 'banned' John Barrowman for activity on the sets of Doctor Who and Torchwood about a decade ago which involved exposing his penis multiple times. For some odd reason, even while the BBC clearly allowed this activity back then, in May of 2021 they decided to harass Mr. Barrowman by removing Captain Jack from the Time Fracture event and even put pressure on their license holders such as Big Finish to fail to release Torchwood #50 that consumers had already paid for.
Who was the boss? Russell T. Davies. Good 'ol RTD was the showrunner back then and apparently he failed to stop John from slapping out his schlong with spontaneity. And it looks like that oversight might just have some consequences as well, when the big bully hammer of BBC slams down.
Originally scheduled for a June 2021 release, the 'lost story' by Russell T. Davies now shows on the Big Finish website as "TBA".
Mind of the Hodiac has been delayed until further notice;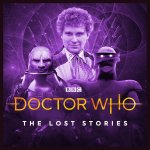 Mind of the Hodiac - Delayed
- Right there on the Big Finish website.
Has BBC accepted responsibility or have they tossed-off (no pun intended) the blame for John Barrowman's penis exposure to the proper parties involved such as show runner Russell T. Davis? It does look entirely possible.
Last edited: