In a shock move, about 24 hours after an equally shocking trailer/movie starring Tom Baker as his most recent self, BBC seems to have attempted to remove all traces of this video. Gone from their Youtube channel and everywhere else that non-content producers upload content. It's just gone.
Here is where it was on Youtube:
Do any copies exist? Oh of course. I have it on my hard drive. I downloaded it from Youtube yesterday. They say you are not supposed to do that but considering the fact that I don't know who 'they' are, I don't care and 'they' can go fuck themselves for all I am concerned.
But why did BBC pull this so fast and why was it only available to see for about 24 hours? It was online long enough that people even posted reviews on The Time Scales, myself included.
https://thetimescales.com/Story/story.php?audioid=11662
A modern Doctor Who mystery no doubt.
Kamelion
Outpost Gallifrey News
San Francisco, California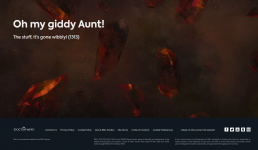 PSSST!
Last edited: